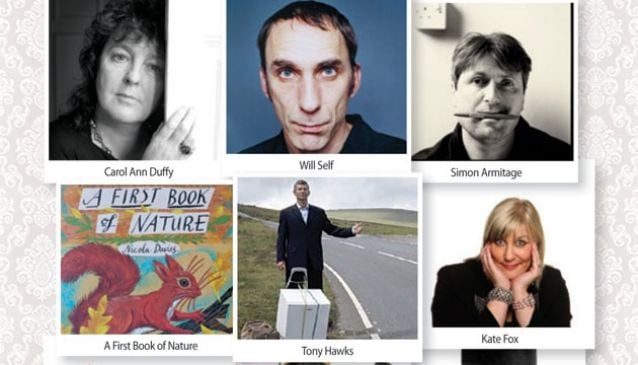 York Literature Festival
Arts & Culture
One of the most respected and accomplished writers in the UK
This March, the much-anticipated York Literature Festival is back for its sixth year with an even bigger repertoire of literary treats. The festival this year will showcase an assortment of inspirational poets, bestselling authors and an array of musical and comedic talent. The likes of Carol Ann Duffy, Will Self and Simon Armitage will be appearing, along with Peter Robinson, Tony Hawks, Tracy Chevalier and many more. As well as the exciting opportunities to see some of the best contemporary writers in conversation, there will also be the chance for aspiring authors to get involved in creative writing workshops.
Carol Ann Duffy – one of the most respected and accomplished writers in the UK – will be returning to the festival for the second time, four years after becoming the first female Poet Laureate in 2009. She will be combining her poetic prowess with the talents of LiTTLe MACHiNe who perform classic poems to music and, in Carol Ann Duffy's words, are 'the most brilliant music and poetry band […] in decades'. (Quote from the Literature Festival Programme)
Also appearing in the festival line up this year is the unique author and journalist Will Self and the talented poet, author and television presenter Simon Armitage. Unfortunately both events are sold out, but those lucky enough to have tickets are in for a real treat. Ticketholders for 'Will Self in Conversation' will enjoy the rare opportunity to hear the 'provocative' writer in a live interview (Miles Salter, festival Director); those with tickets for Simon Armitage will have the chance to see the witty Yorkshire writer discuss his success in an up close and personal setting. If you didn't manage to get tickets, don't despair! There are plenty of other literary treats to sink your metaphorical teeth into.
As well as the opportunity to hear the inner workings of some of the best contemporary literary minds, festivalgoers will have the chance to pick the brains of experienced authors in creative writing workshops. The well-known author, publisher and critic Nicholas Royle will be running workshops and a talk on 'The Art of Short Fiction' as well as author Kathlene Postma who will be holding a workshop on how to 'Create Characters not Caricatures'.
Those who enjoy wandering might enjoy 'A Stroll Through Literary York'; the walk is always popular and explores York's literary links throughout the centuries. If you are looking for something to entertain the kids, York Literature Festival has an array of events for children including Parent and Baby Bookclubs and 'The Yo Ho Ho Show'. There will also be comedic events on offer such as 'Tony Hawks: Round Ireland With A Fridge' - a film presented by Tony Hawks himself – and 'One Love' involving a combination of comedy, poetry and music.
The York Literature Festival is not only a celebration of literary talent and innovation, but also of the city itself. As Miles Salter states, the festival has 'amazing potential in York' with its fantastically varied venues and rich literary history. The Festival is closely connected with York's community and is supported by York St John University of which Miles is a former student. He is enthusiastic about the festival's affiliation with York St John stating that his time there made 'a huge impression' on him and that he and the volunteers at the festival are 'really pleased to be working with them' (Miles Salter).
Don't miss the opportunity to enjoy a brilliant assortment of literary events this March! Tickets range from free to £14 and can be bought from the websites detailed on the programme which is available to download from here