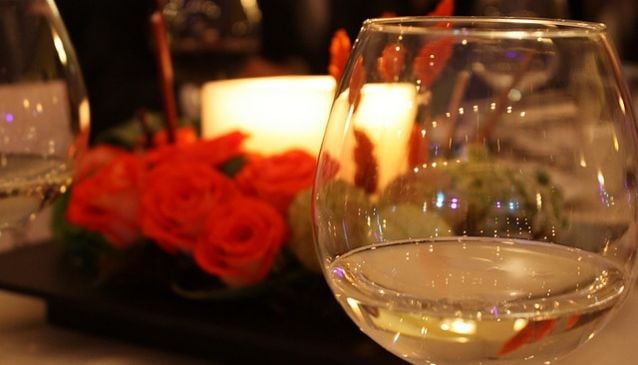 Romantic Restaurants in York
Food & Drink
You don't have to wait for Valentine's day to enjoy a romantic meal in York.
The 14 February is a busy night for most restaurants in York but you don't have to wait for Valentine's day to enjoy a romantic meal in one of its lovely restaurants. York is the perfect place for a romantic break at any time of the year and many restaurants are romantic all year round.
Here are a few that can be described as romantic and are recommended as a perfect place to enjoy an intimate meal with good food, fine wine and each others' company. These restaurants have been selected for their individuality, as well as being romantic they are also different from each other, giving you a choice so that you can have the perfect evening.
ate o clock restaurant is found down a small but interesting alleyway just off High Ousegate. In the summer months outside seating is available. Inside the restaurant there is a large bar and a seating area before you move into the main restaurant which is open plan. There are many different types of clocks on the walls all displaying the time as 8 o'clock, so you have plenty of time and there is no need to rush! Seating 40 people, the atmosphere is friendly and relaxed with live guitar music on Friday nights.
The menu is described as "mediteranean with a twist of scouse" and features fresh local produce.
ate o clock has an a la carte menu and a specials board which are available every evening plus a 'B 4 ate' menu (three courses for £18.95) which is available Tuesday, Wednesday and Thursday from 6:00pm to 7:45pm which is a great choice for a pre-theatre meal too.
The Go Down restaurant offers a traditional romantic restaurant experience. Candles on the tables and white linen tablecloths provide an elegant atmosphere in which to enjoy a romantic meal with your loved one.
Go down is an independent family run restaurant that has built up a loyal clientèle over the past 17 years, providing a high quality menu and excellent service.
There is a fixed price menu offering a good selection of dishes with an option of one, two or three courses (Three courses are only £18.00) and an a la carte menu featuring classic British dishes. The restaurant is well known for its steak dishes and, as there are not too many steak houses to choose from in York, if you are looking for a good steak meal the Go Down is a great choice. Bookings can only be made by telephone.
J Bakers is a 'Bistro Moderne' with a great reputation in York. This is a unique restaurant where award winning, Michelin star chef offers, among other things, a Grazing menu using the best of Yorkshire produce.The grazing menu can be enjoyed by the whole table for £35.00 per person. The Bistro menu offers traditional dishes with a J Baker modern twist resulting in exciting and innovative dining experience.
The stylish modern decor is simple yet still cosy with a dark wood theme which helps to create a sophisticated romantic atmosphere. There is a really nice bar area upstairs where you can have a drink and wait for your table.
Finally, many people think that the French have a reputation for being romantic and that a French restaurant is the perfect place for a romantic meal.
Rustique is an independent French restaurant serving traditional rustic French cuisine. With an extensive a la carte menu, a large set menu with 2 courses for only £12.95 and 3 courses for only £14.95 plus the specials board there is certainly a lot to choose from. The decor is bright and vibrant with many art nouveau decorations and soft music adding to the Parisian atmosphere. The restaurant seats 50 people but it is regularly full to capacity and so booking in advance is recommended.