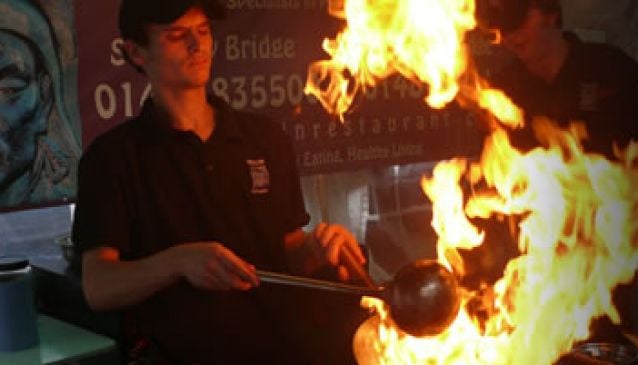 York Food and Drink Festival 2012
Food & Drink
The sixteenth York Food and Drink festival ran for 10 days from Friday 21st September to Sunday 30th
The sixteenth York Food and Drink festival ran for 10 days from Friday 21st September to Sunday 30th September. This is a very popular annual event promoting local and regional food and drink.
The theme for this year's festival was 'Feeding the City – in the past, present and future' which fitted in nicely with the 2012 yearlong celebration of York 800 - celebrating 800 years of self-government with an extensive programme of public events, activities and festivals.
A packed programme at this year's festival saw various events and workshops including cookery demonstrations, food tastings, competitions and live music. Tours were even available around the York Mansion House's kitchen, built in the Georgian period and homage to food from centuries past. In St Sampson's Square a demonstration kitchen was built which had a packed programme of events and most were free of charge. These included two Michelin-starred chefs. Bruno Loubet, who put a unique twist on classic French dishes and Yorkshire's own Michelin-star chef James MacKenzie, from the Pipe and Glass Inn in Beverly. For those with a sweeter tooth, workshops also delved into the production and history of chocolate- explaining how this everyday snack once had made its way as a prized delicacy from international waters to the city of York.
One of my favourite events was the 'Eat through the Ages: Medieval and Victorian Drinks & Nibbles'. Andrew Bone Jones from the York Archaeological Trust delivered his 'nutty professor's' view of food through out the ages. The event cost only £2 and consisted of 7 different taster courses of food from the medieval and Victorian ages. We began with a meat broth, a soup made of meat and vegetables that were cheap and easily accessible for the medieval residents of York. We also sampled a Fish Pie that would have been made with cod and raisins and a puff pastry top – this was surprisingly delicious and creamy. Our final medieval course allowed us to sample a mutton and cabbage stew. With each of these courses Andrew Jones explained why this particular dish was popular with the people of the time and how the work of the York Archaeological Trust had helped to uncover this gastronomic past.
Leaping forward several centuries to the Victorian age, the workshop introduced us to foods that were products of the Industrial Revolution. York was not as affected by these economic changes as many Northern cities and largely remained a craft and market town, however was still touched by the subsequent invention of canning and food processing. These changes helped to preserve food when residents could not attend daily markets due to long working hours, were forced to live in squalor and no longer could grow their own produce. The Victorians enjoyed tinned sardines and corned beef on toast. Jelly was also regarded as a luxurious 'mouth feel' desert. We were then invited to wash all the food down with a fine sample of Port and some dark chocolate drops. This really was a whistle stop tour delivered in a unique and humorous style by a professor who is clearly an expert in the subject of the history of food.
During the festival I also attended the 'Discover the Origin Taste' lecture given by Karen Hardwick of 'The Wine Academy'. Hardwick has over 20 years drinks trade experience and has recently won the 2011 International Wine Educator of the year award. The workshop allowed us to learn about the campaign to promote five key European products: Burgundy Wines, Parma Ham, Douro Wines, Parmigiano-Reggiano Cheese and Port. Each product is unique to the region in which it is produced and is celebrated the world over for its flavours, history and traditions. Whilst learning about the products we were also allowed to sample more food including cheeses, wines and hams.
The final event I attended was a taster session from one of York's most popular vegetarian restaurants, El Piano. The workshop was a focus on flavour the vegan and Gluten free way. I am not a vegetarian but I have often heard that this is a really good vegetarian and Gluten free restaurant. My Friend and I wanted to try the Cakes and Tortilla that they had made using alternative Gluten free flours. There were people in the audience who were looking for information on how to make gluten free bread, tofu, pastry and chutneys and we were given the opportunity to look at a huge version of one of their popular recipe books and make note of some recipes even though the books were available to buy at the event. We tasted a Potato tortilla which can be made with gram or chick pea flour and bread that was made with polenta. For those with a sweet tooth we sampled some chocolate brownie, carrot cake and sticky toffee pudding all made with alternative types of flour. They were all delicious and I could not tell the difference between these versions and the 'normal' versions. It was explained that from a health point of view it can be beneficial to have a change of diet whether it is necessary for allergy reasons or not. I will certainly be visiting their restaurant to try more of their alternative but really tasty dishes. El Piano was nominated for the restaurant of the year award at the White Rose tourism awards held in Leeds on October 1st.
Not realising how much of a taster we would actually be having we bought lunch from one of the many stalls beforehand – A Chicken kebab wrap which was delicious. In addition to the scheduled events there were also hundreds of local and global traders exhibiting their delicious food and drinks.
see more photos from the food and drink festival on the My Guide York facebook page http://www.facebook.com/MyDestinationYork
Watch the video below for a taste of the food festival.