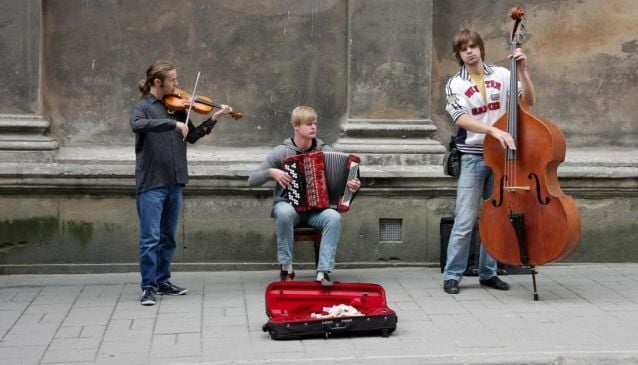 Live Music in York
Arts & Culture
York has a thriving live music scene with many of its pubs and clubs being home to live music nights
Despite being a small city, York has a thriving live music scene with many of its pubs and clubs being home to fantastic live music nights. Visitors will find themselves enticed into pubs and bars by the muffled strumming of a guitar, a lively reel on a fiddle or perhaps the sultry jazz chords of a grand piano. If you're not much of a night owl but still enjoy listening to a spot of live music, there's no shortage of talented musicians out busking during the day. At the weekends (and often weekdays) various bands and solo buskers set up stage on the streets providing a musical interlude to the hustle and bustle of the city. You might find yourself strolling through the streets accompanied by an acoustic performance of Waterloo Sunset, or perhaps a mobile pianist's rendition of The Music of the Night. The variety and talent of the musicians that busk in York never fails to gather crowds of eager listeners.
If you want to indulge your love for music further, many of the pubs and bars all over York host live music nights showcasing an assortment of musicians of every genre. The Habit on Goodramgate is an atmospheric bar with tonnes of character and an assortment of live music ranging from a ukulele group to blues and folk singers (also has some tasty nibbles and beers). The Habit does have a Facebook page, but you can also find out what's on by popping in and asking the bar staff or having a look at the posters in the window. If you're a fan of Jazz, Kennedy's Bar and Restaurant has live Jazz performances on Sunday afternoons as well as various gigs which are listed on their website. The Ye Olde Starre Inn on Stonegate – apart from being the oldest pub in York – also holds live music nights on a Thursday, which are always fantastic… Get there early if you want a seat!
As well as pubs and bars, York also has a number of larger music venues to offer such as Fibbers, The Duchess, The Basement and The Barbican. Fibbers is a club and music venue hosting acts such as Kate Nash, The Dutch Uncles and York's very own Glass Caves who can frequently be seen busking around the city. The Duchess is a similar live music and club venue with various gigs and up and coming artists to choose from. For something a little different, The Basement beneath City Screen has an eclectic variety of live music, comedy, poetry and drama. Or – if you enjoy the electric atmosphere of a larger venue – the Barbican has a brilliantly varied repertoire of events and live music, including appearances from the likes of Michael Ball, Elvis Costello and The Rat Pack. Have a look at their website to find out more.
For the avid festivalgoers out there, the YO1 Festival will be making its second appearance in York this May. The festival will have five stages of up and coming musical acts to choose from, including (but by no means limited to) appearances from UK Chart topper Rudimental, Alunageorge and Radio 1 DJ Jackman, as well as Lulu James, Greymatter and Serious Sam Barrett. In addition to the aural treat of talented musicians and DJs, the festival will be home to some delicious street food, a vintage fair and a micro ale festival. Have a look at the YO1 website for more information.