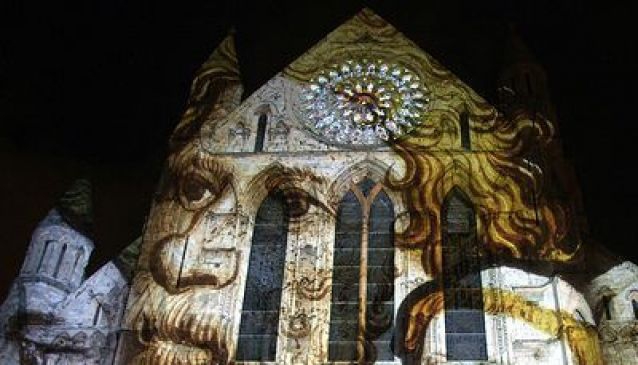 Illuminating York
York
Illuminating York is one of York's biggest annual events, 60,000 visitors saw it in 2011.
This year's Illuminating York festival has a programme of different events running between 31st October and 3rd November. The festival, which is now in its eighth year, has attracted 100,000 visitors, residents and tourists alike and brought over £10 million into the city.Illuminating York is one of York's biggest annual events, and over the past 7 years has created specially commissioned digital artworks on several of the city's historic buildings, including York Minster, The Yorkshire Museum & the Bar Walls to celebrate the city's unique architecture and history and brings internationally renowned artists to the city centre for thousands to enjoy. 60,000 visitors attended the event in 2011.
The main event this year is taking place in The Museum Gardens which are located in the centre of York. The Museum Gardens, a ten acre botanical landscape which houses the Yorkshire Museum and the ruins of St Mary's Abbey, was also the location for the world famous Mystery Plays which took place throughout August this year.
The 2012 Illuminating York Festival has a 'Wonderland' theme which has been created in the mind of the English comedian Vic Reeves. This is a joint venture between Vic Reeves; York based artists Bright Light, Bar Lane studios, Arup designers and Chetwoods Architects. The gardens which are normally a peaceful and tranquil retreat from the hustle and bustle of the City (and a great place to picnic) are going to be transformed by cutting edge lighting technology into a completely different and unrecognisable arena. In addition to the three main audio visual displays which will be projected onto the ruins of St Mary's Abbey, the Yorkshire Museum and the inside of the Bar Walls, which enclose part of the gardens, lighting will be used to highlight trees, bushes and paths and change the whole of the familiar gardens into a world of the absurd and surreal.
As well as the transformation of the Museum Gardens there will be lots of other events to enjoy and take part in such as;
Illuminating York Minster - experienceYork Minster in all of its exquisite, ethereal majesty as kaleidoscopes of shadow and light, candles and colour create a Window on Heaven.
The Treasurers House – A ghostly Glow
Barley Hall – a medieval illumination
Details of these events and more can be seen in the events section of this website.
You can also download the programme of events here.